Beats by Dr. Dre Pro Tough Times Neverlast DR.ZED Over-Ear Headphones (Limited Edition)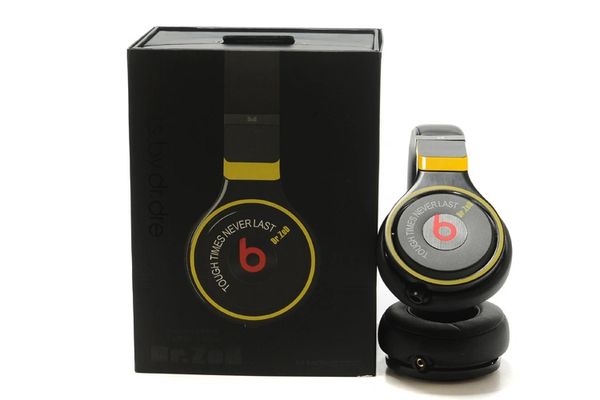 Beats by Dr. Dre Pro Tough Times Neverlast DR.ZED Over-Ear Headphones (Limited Edition)
ONLY 5000 OF THIS EVER MADE
LIMITED DR. ZED TOUGH TIMES NEVER LAST EDITION
Clear highs and deep lows for premium sound quality
Rotating earcups to hear the sound around you
Durable housing and cushioned headband for long hours in the studio
Share what you're hearing through dual audio ports with DaisyChain™ connection
Take calls and control music with RemoteTalk™ cable*
(*Compatible with iOS devices.)
FEATURES
THE SOUND OF THE STUDIO.
Beats Pro headphones allow you take sound seriously. That means you¹re hearing music the way it was originally heard by the artist in the studio.
CLEAR HIGHS AND DEEP LOWS.
Beats Pro are made of steel and aluminium, giving you an interior sound platform more solid than most. That's why you'll feel the kind of bass that resonates deep in your chest when you play your music.
PRACTICALLY INDESTRUCTIBLE.
Beats Pro headphones are made with an aluminium gunmetal frame, encasing overstuffed leather ear cups.

TRUE NOISE REDUCTION.
Because Beats Pro headphones have heavily padded, pivoting ear cups, you get the noise cancelling effect without the need for power switches or batteries. It's the real studio monitor experience in a headphone.
From the first note to the final mix, the Beats Pro headphones delivers reliable studio reference sound. A cushioned headband and heavily padded, rotating earcups provide a comfortable fit for long hours.

Highlights
• Even frequency response of studio monitors for ultra-accurate recording, mixing, and playback
• Greater earcup foam density and precise fitting shut out external noise for awesome accuracy and clarity
• Plug your cable into one earcup and the other port switches to output mode, making it easy to share what you're listening to
• Backward rotating ear cups make it easy to monitor the room, studio, or club with Beats Pro headphones at all times
• This design yields superior sound isolation with maximum comfort and minimal ear fatigue
• Ear cups are removable and washable
• The heavy-duty, gold-plated 1/4-inch adapter ensures you're ready for any setup; attached tether prevents it from being left behind at your last gig