Men's Nike Air Force 1 High Retro QS Summit White & Royal Blue Sneakers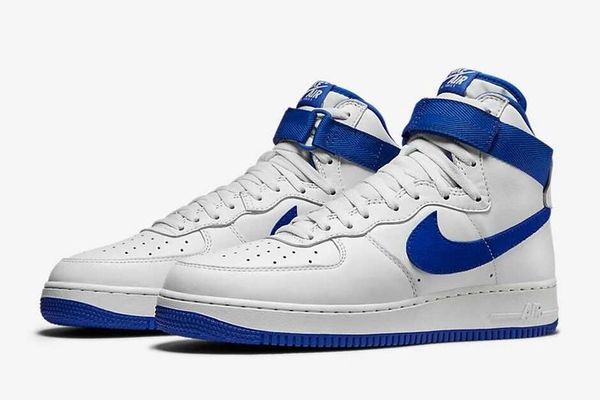 Men's Nike Air Force 1 High Retro QS Summit White & Royal Blue Sneakers
In 1982, Nike designer Bruce Kilgore from a practical and pragmatic point of view but minimalist cut, making use of traditional shoemaker to detail and awareness of the importance given to both the soul, totally abandoned with no verbosity functional elements blend to create a successful function and epidemic Air Force 1, the first pair of human history known as Air basketball shoes. 
However, AF1 but never just a pair of shoes, to some extent also represents a heritage of experience in the attitude towards life. 
For senior basketball aficionados, AF1 has always been representative of this movement is a part of the entire basketball culture can not be separated; then combined with various types such as succinct Hip-Hop and other street elements, and then across a variety of borders, has already become Needless to say, the classic genuine. Past professional players called top basketball shoes, shoes, fans and popular players now is recognized that it is best to look casual shoes life. 
Although the past 33 years, with changes and development of the times, Air Force 1 in many details, such as tailoring, materials and construction methods, etc. also followed the evolution of the design, but along the way highlighted the six genes topic: strong, durable excellence, bold, consistent and pure but it has not changed. 
NSW this year started almost back to the original color of the classic 1982 Tall AF1 OG style; substantially constant pursuit of original concept and spirit, thinking and the use of new footwear technology "Remasted", showing a more positive clean sharp lines cut, now fully brand-times of both modern and unique style.