Unisex Louis Vuitton x Supreme Bumbag Epi Red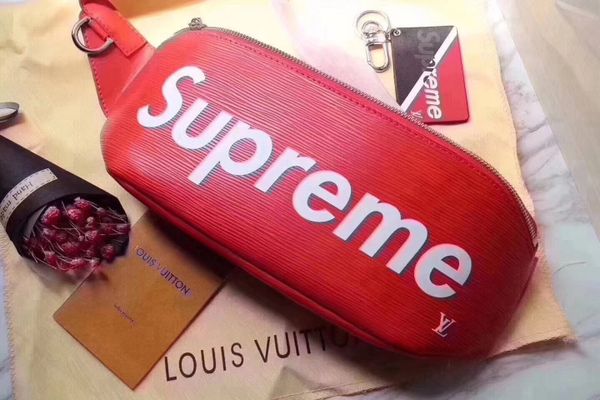 Unisex Louis Vuitton x Supreme Bumbag Epi Red
This authentic Louis Vuitton x Supreme Bumbag Epi features Epi Leather and a silver colored top zipper that open to a microfiber lining. Designed in collaboration with iconic NYC skate brand Supreme, this Bumbag is inspired from the downtown spirit. Worn cross-body as seen on the Show, it will bring a cool and trendy touch to any look.
New York City skate/streetwear fashion label, Supreme, has never once swayed from its initial intentions it was established from in 1994 by James Jebbia. Supreme is founded on solid workmanship, high quality, and an unwavering desire to provide authentic creative goods for city kids, celebrities, and collectors everywhere. Collaborations with the likes of Ryan McGinness, Kaws, Larry Clark, and Jeff Koons, brings Supreme to the apex of fashion, posing as an affordable gateway for street kids to mix with high art. Jebbia keeps Supreme classic, but fresh—constantly producing attractive imagery and styles, but always keeping production quantities low––which keeps not only quality high, but demand as well.
This is a versatile small accessory with timeless appeal, ideal for everyday essentials, from Louis Vuitton and it is available to buy or sell online at www.Discountdaccessories.com
Introduced in the summer of 2017, Louis Vuitton's collaboration with New York streetwear staple, Supreme was an instant success. The highly anticipated launch caused excitement around the world with pop-up stores in major cities such as Los Angeles, Miami, Seoul, Bondi Beach, Paris, London and Japan.
The pieces incorporate classic elements from both brands by including and mixing the Louis Vuitton Monogram, Epi leather, Supreme logo, camouflage print, denim and the color. This collaboration is quickly becoming a favorite amongst collectors and is extremely hard to find as the collection is not featured on the brand's websites.